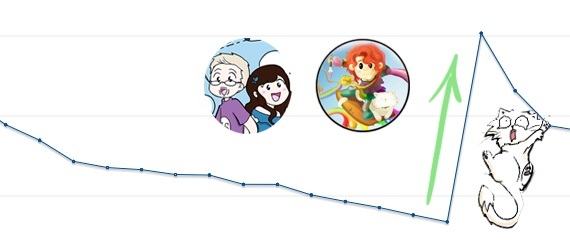 🥇
Looking at the 2017 reports, I can happily say that the most adventurous and colorful graphic novel Polly and the Black Ink was definitely a BEST SELLER and Notfrombrazil made the TOP 100 in several categories.
Hope this year my art continues to bring you more adventures and fun!
Also, thank you for the new reviews, that is a great help to reach more fans. Don't let Paws fall... so keep them coming. I love to hear your opinion. Especially if your cat has something to say to PAWS!
Ao olhar para os relatórios de 2017 posso alegramente dizer que a série de banda desenhada mais aventureira e colorida Polly and the Black Ink foi definitivamente um Êxito de Vendas e o Não do Brasil alcançou o top 100 em várias categorias.
Espero que este ano a minha arte continue a trazer-vos muitas aventuras e divertimento!
Quero agradecer as novas valiosas críticas e estrelinhas que são uma grande ajuda para alcançar mais fans. Não deixem o gato Paws cair, vamos mantê-lo no topo por isso venham dai mais opiniões. Eu adoro saber o que estão a pensar. Especialmente se o vosso gato tem algo a dizer sobre o gato Paws!
Tenham uma excelente semana!